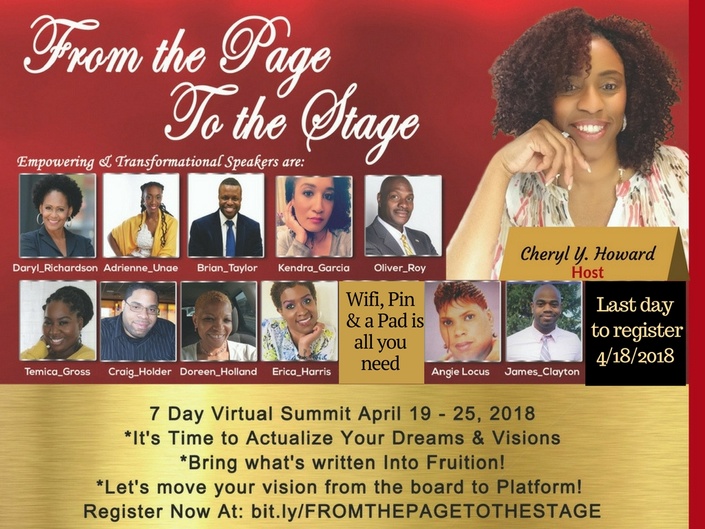 From the Page to the Stage Summit All Access Pass
Actualizing Your Vision; Branding your Genius & Living Your Purpose
Watch Promo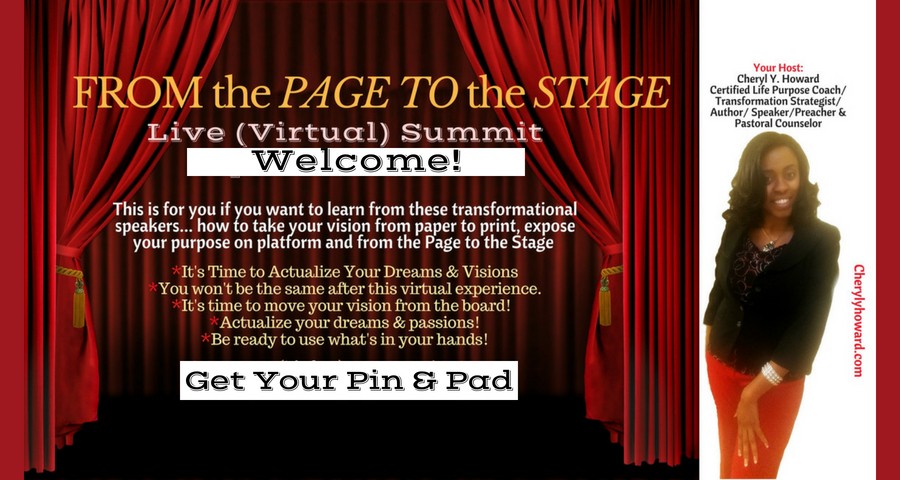 Be inspired and compelled to identify and use your skills, gifts, talent, knowledge and life experience so you can live in your purpose. Perhaps you never thought of branding/packaging your genius, knowledge and the above as a business, mission or ministry. These speakers also provide key life, mindset and business strategies and branding tips to help you do the same. I believe this summit series is a catalyst and motivational tool that will push and empower you toward your vision and purpose. It's time for someone to:

*Start that ministry
*Pursue your dreams
*Launch that vision
*Write that book
*Start that brick & mortar or online business
*Launch that non-profit or mission
*Open that practice
*Begin that passion project
*Share your story as a speaker or author
*Brand/Package/Monetize your concepts; genius, brilliance, knowledge and experience
*Create that Product
_______________________________________________________________________________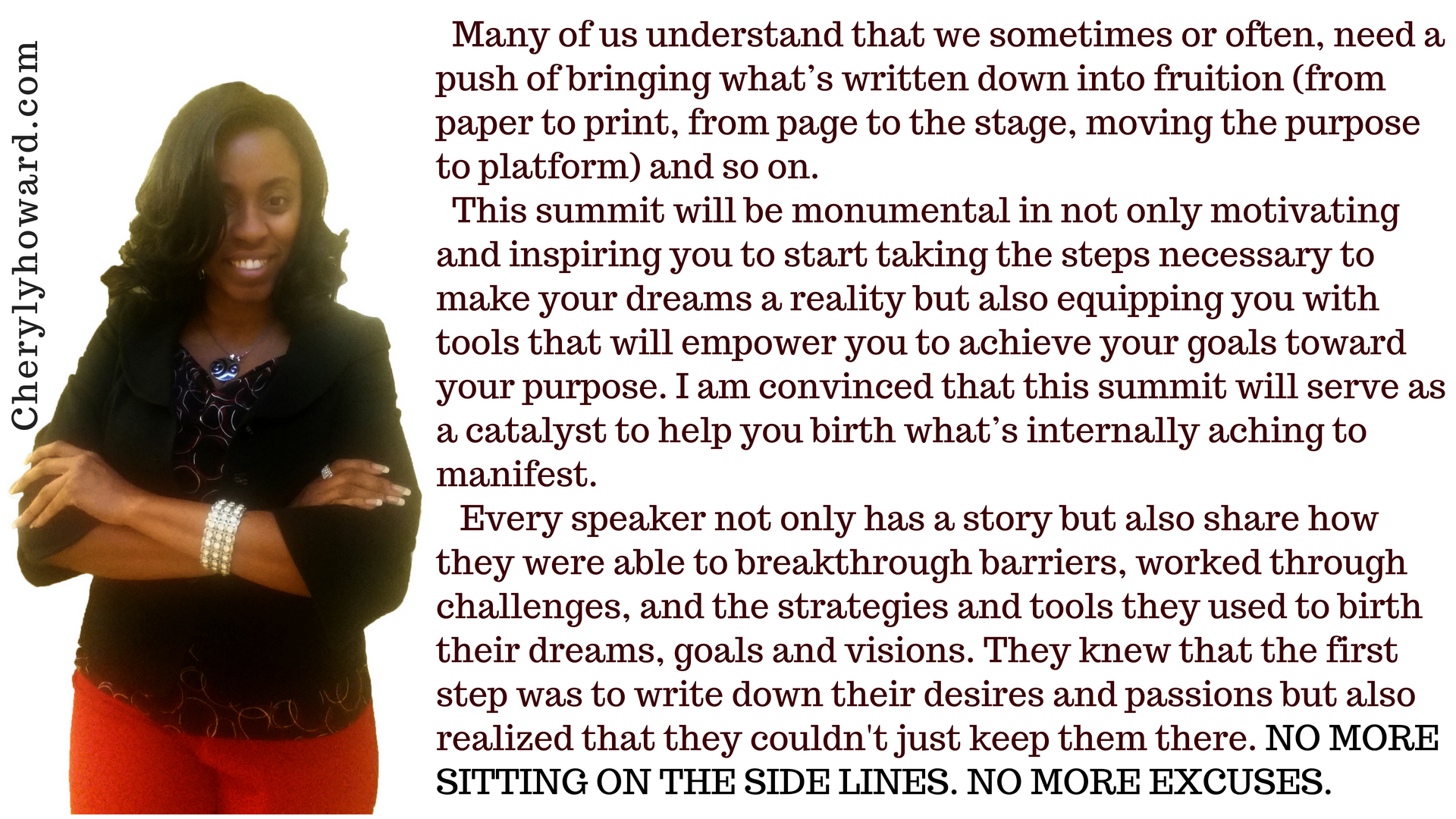 _______________________________________________________________________________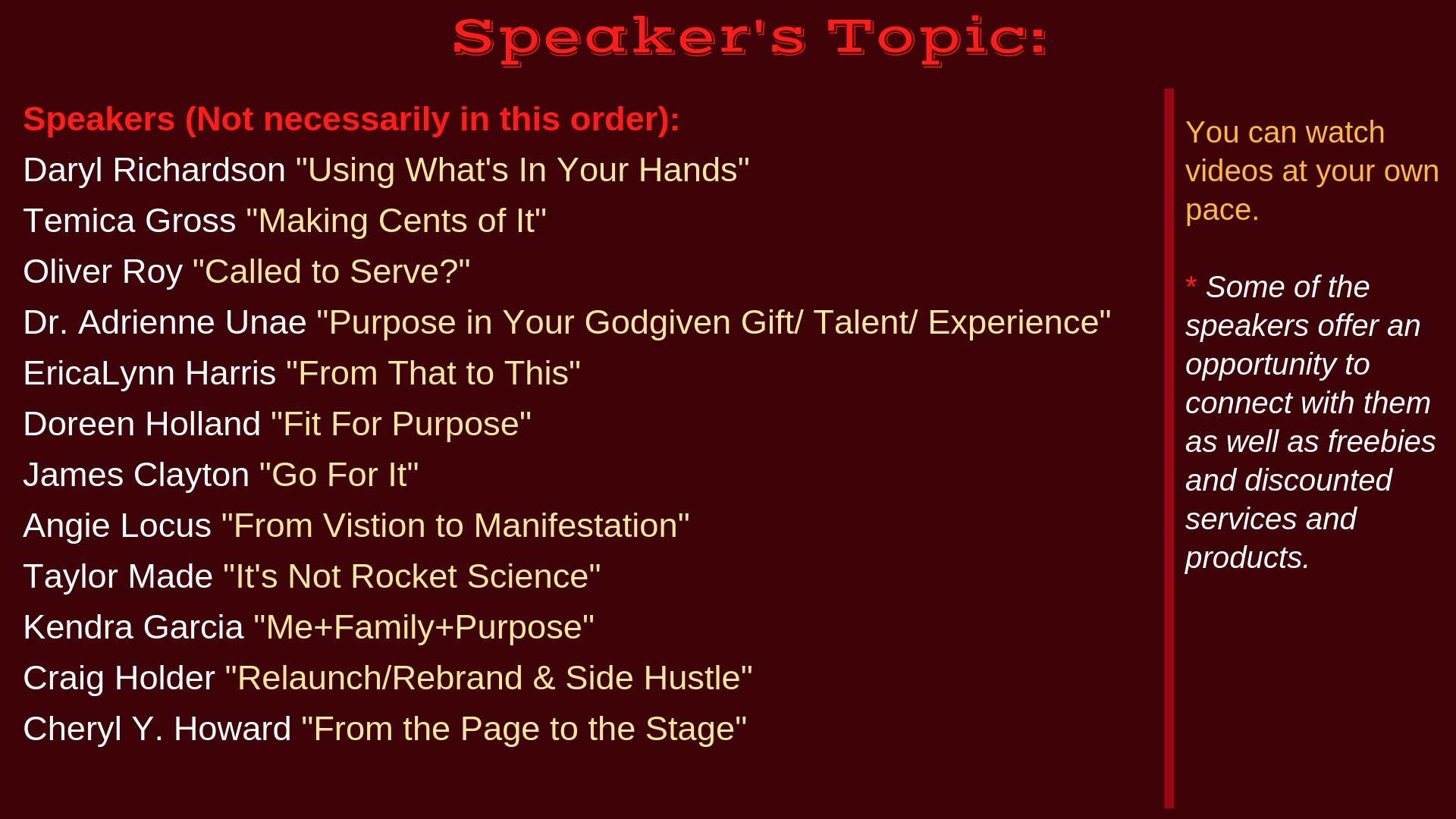 Your Instructor
Cheryl Y Howard is passionate about inspiring others to live their visions, dreams and passions. She enjoys teaching others how to package what they know, love, do and say as a business, service, program, book and message and monetize it. Her motto is: 'Motivating others to Breakthrough Barriers and Propel Into Purpose." Cheryl is a Mental Health Professional, Amazon Best Selling Author, Certified Life Purpose Coach, REBT Mindset Coach, Blogger/Vlogger and Podcaster, Transformational & Inspirational Speaker, Minister and Pastoral Counselor. Cheryl provides coaching services and pastoral counseling online and face to face. She also often uses live streaming to provide mind-transformation, emotional wellness and healthy relationship/communication strategies.

Cheryl utilizes social media as another tool to minister to nationally. Cheryl is currently pursuing her Doctor of Ministry degree focused on Pastoral Counseling. She has a MA in Human Services Counseling, training in graduate Clinical Social Work, a MA in Theological Studies, and is a licensed Cosmetologist. She is the founder of the Goddaughters Workshop, His Garden Naturals skin and hair care Product line and mobile salon, Get Your Life Back Coaching and Healing for Your Soul Ministries. Coach Cheryl is also a current Contributing Writer for Thrive Global, and her blogs Get Your Life Back and NurturedNaturallyByCheryl.com.
Now that you're enrolling or you're a current student enrolled in courses, Remember to join in our private Facebook group where we students and participants can leave comments, receive support, ask questions, collaborate, for peer support, resources, educational videos, group coaching, guest speakers, and more.
---
As a gift and tool to help you discover your inner genius, talent, skill-set, strengths and gifting that's connected to your purpose, I present my digital/pdf book, "Purpose Passion Finder Journal" (workbook/guide) as a free download. It's valued at $15.00 but now included in this course/webinar for students. Many people even use it to help them monetize their experiences and aforementioned attributes, and walk into their purpose. You can do the same. The paperback is also available for $15 at Get Your Back shopping cart.