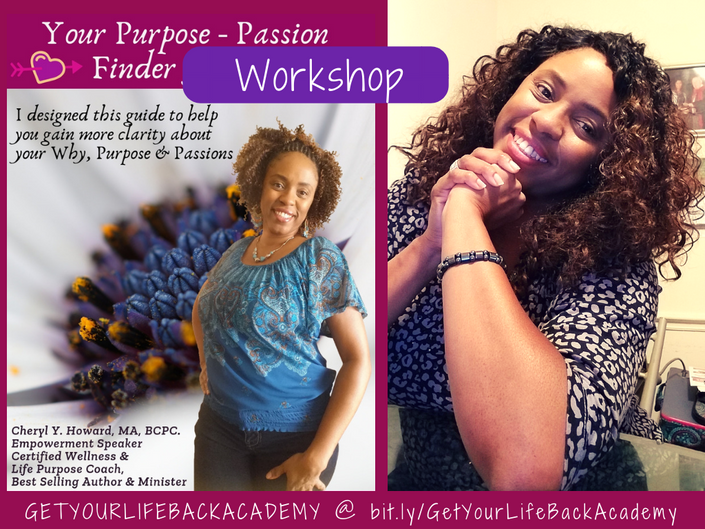 Purpose Passion Finder Online Workshop
Clarify and Identify WHAT'S IN YOUR HANDS (Assets, Strengths & Passions) in order to operate in your purpose!
Watch Promo
Enroll in Workshop $97.00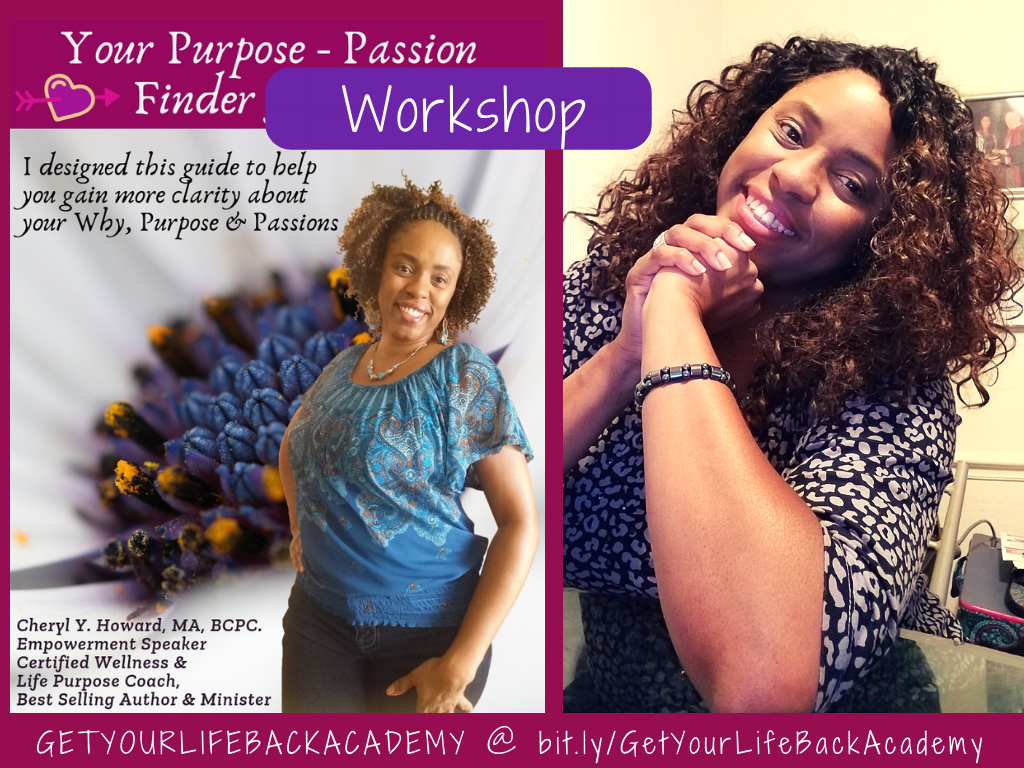 This workshop includes a workbook, group coaching sessions in a private Facebook group, email support and more...
What if I could help you identify your strongest skills and talent that you should be using as a blessing to others? Are you ready to operate in your passion and purpose but need to get more clear about what that is?
* Need to know your why? *Use my simple but creative method of zeroing in on your strengths and passions connected to your Purpose.
---
Who This Workshop is For AND Signs You Are Passion-Purpose Focused:
* You are feeling unfulfilled and need confirmation with identifying your strengths, purpose and inner greatness...* You also believe that there is more to you and uncharted untapped brilliance, originality and passion…
* You want to discover how to package and monetize your genius, life experience, skill-set and expertise…
* You are ready to resign/quit your job, change career and create more flexibility by working for yourself...
* You find yourself working on your own passion-purpose projects while at work and/or performing at bare minimum to get the job done.
---
LET ME TELL YOU MY "WHY" FOR CREATING THIS WORKSHOP:
I created this workshop to help you Discover Your Inner Genius & Skill-set. Many people wonder what their passion(s) are and new purpose, and fail to realize that the answer could be right in front of them. Others, may also see our super ability, potential, brilliance, inner genius, specialization and mastered skills that we somehow ignore or don't realize it's brand-worthy and marketable as a new purpose, side hustle or full time entrepreneurship.
Don't second guess yourself after identifying your skills, knowledge, experience and talent(s). It's important that once you identify your strengths, talents, skills and abilities, you should declare and receive it.
Can't wait for you to take this journey of discovering what you love, the value you possess and pursue it!
"Clarify and Identify WHAT'S IN YOUR HANDS in order to operate in your purpose! You P.A.S.S (Passions, Assets, Strengths & Skill set).
- We will work together but you're going to be stretched a bit because it's your season to live in your purpose and passion.
- It's time for you to stop hiding behind the camera/lens of watching everyone else show up even with fear and trembling.
- Let fear and past trauma work as a catalyst to push you to break barriers and propel into your purpose. *NO MORE BURIED GIFTS! Tell Your Neighbors...*

Plus, you get more:
1️⃣ Support from me and invited guest presenters in the private Facebook group.
2️⃣ A copy of the workbook is included.
3️⃣ Resource List for business startups, branding & personal growth.
4️⃣ Digital weekly goal planner
5️⃣ Email support and affirmation
6️⃣ Live Group coaching
7️⃣ Bonus! Access to 4 video recordings of speakers from my "From the Page to the Stage Summit."

---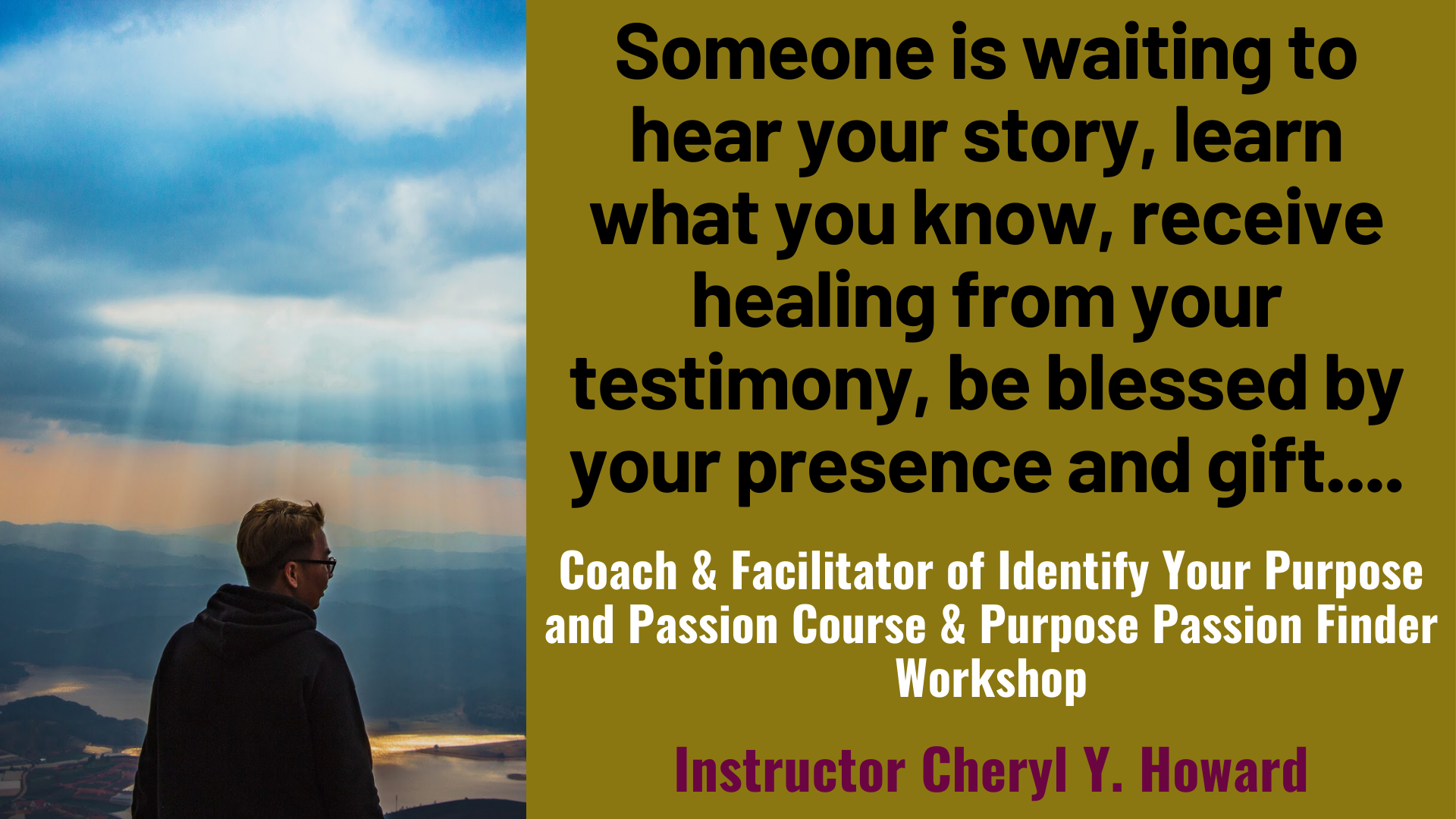 ---
BREAKING NEWS!

I also have something new and brewing... I'm working on to add to this workshop that includes taking you through the strategies needed to complete a final package of your skills, talent, knowledge and life experience as your brand. The only thing that will change is the price because this will be an additional service. It is my desire to help you show up in the world and establish yourself as the genius your are and no long be next best kept secret. I will be back with the details right before launching. In the meantime, complete the first part of your journey by taking this leap of faith and expectation to position yourself for the next level...

Your Instructor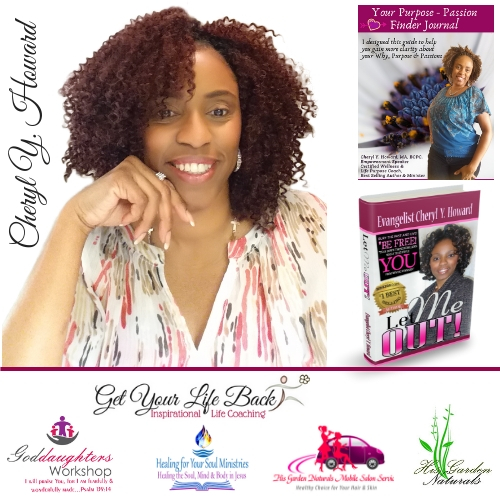 Cheryl Y Howard is passionate about inspiring others to live their visions, dreams and passions. She enjoys teaching others how to package what they know, love, do and say as a business, service, program, book and message and monetize it. Her motto is: 'Motivating others to Breakthrough Barriers and Propel Into Purpose." Cheryl is a Mental Health Professional, Amazon Best Selling Author, Certified Life Purpose Coach, REBT Mindset Coach, Blogger/Vlogger and Podcaster, Transformational & Inspirational Speaker, Minister and Pastoral Counselor. Cheryl provides coaching services and pastoral counseling online and face to face. She also often uses live streaming to provide mind-transformation, emotional wellness and healthy relationship/communication strategies.

Cheryl utilizes social media as another tool to minister to nationally. Cheryl is currently pursuing her Doctor of Ministry degree focused on Pastoral Counseling. She has a MA in Human Services Counseling, training in graduate Clinical Social Work, a MA in Theological Studies, and is a licensed Cosmetologist. She is the founder of the Goddaughters Workshop, His Garden Naturals skin and hair care Product line and mobile salon, Get Your Life Back Coaching and Healing for Your Soul Ministries. Coach Cheryl is also a current Contributing Writer for Thrive Global, and her blogs Get Your Life Back and NurturedNaturallyByCheryl.com.
LINKS TO CONNECT WITH CHERYL:
Website: http://www.cherylyhoward.com/

Blog: https://getylifeback.com/
Podcast: iTunes Apple Podcast / YouTube / Soundcloud Also on: Podbay, iHeart Radio, Google, Amazon Music & Spotify
TO BOOK CHERYL AS SPEAKER: http://www.cherylyhoward.com/Cheryl-Speaks.html
Frequently Asked Questions
When does the course start and finish?
The course starts now and never ends! It is a completely self-paced online course - you decide when you start and when you finish.
How long do I have access to the course?
How does lifetime access sound? After enrolling, you have unlimited access to this course for as long as you like - across any and all devices you own.
So Glad you decided to take this journey and experience with me as your coach, consultant and cheerleader! Yay! Hooray! Let's go You! I want you to remember that if you want additional support by signing up to one of my programs but especially the Use What's In Your Hands services, to help you take the next step of learning strategist on how to turn your skill set, passions and purpose into a business, service, community resource, group or movement. If you are enrolled in the Purpose Passion Finder Workshop, you would have already completed a major part of Use What's In Your Hands package and we can jump right into branding and business strategies, niche planning, target audience/customer/client engagement and more.