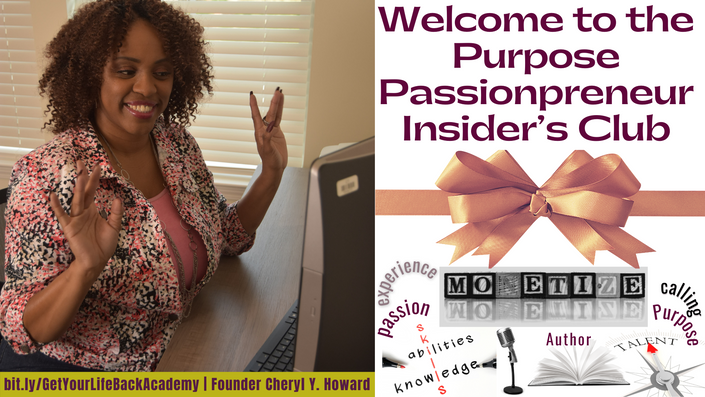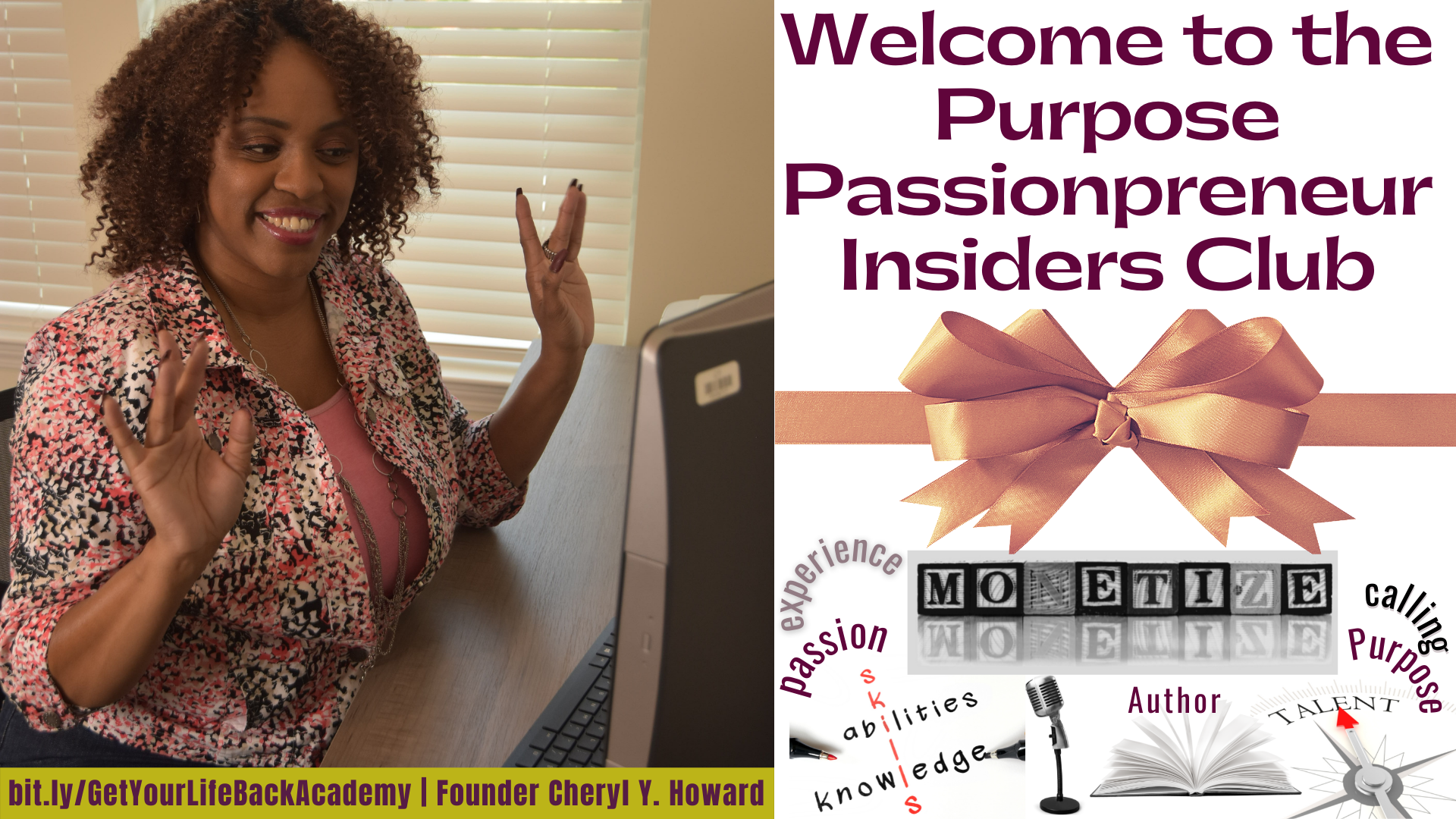 The Purpose Passionpreneur Insiders Club is for aspiring and new entrepreneurs who are passionate about operating in their purpose and passions, who want to turn their God-given passions and purpose into profits, who desire to take their vision from the page to the stage, who are ready to thrive on another level by personal development, as well as learn strategies on how to package and monetize their purpose and passions.
When you join the club, you will learn how to translate your story, skills, knowledge, life experience and passions into services, products, ministry or mission by establishing yourself as a brand, an expert, infopreneur, entrepreneur or even a side hustlepreneur so you can help and serve others.
---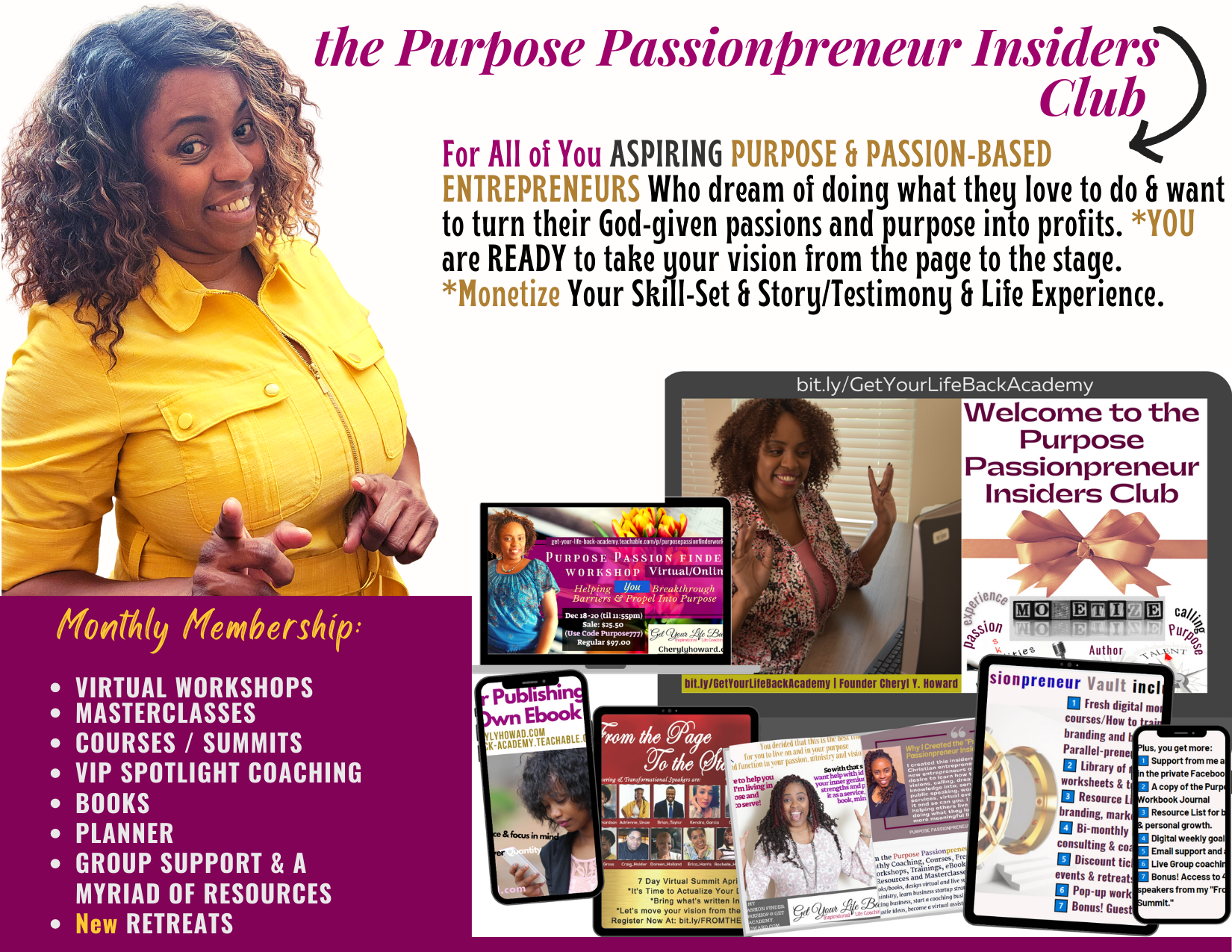 ---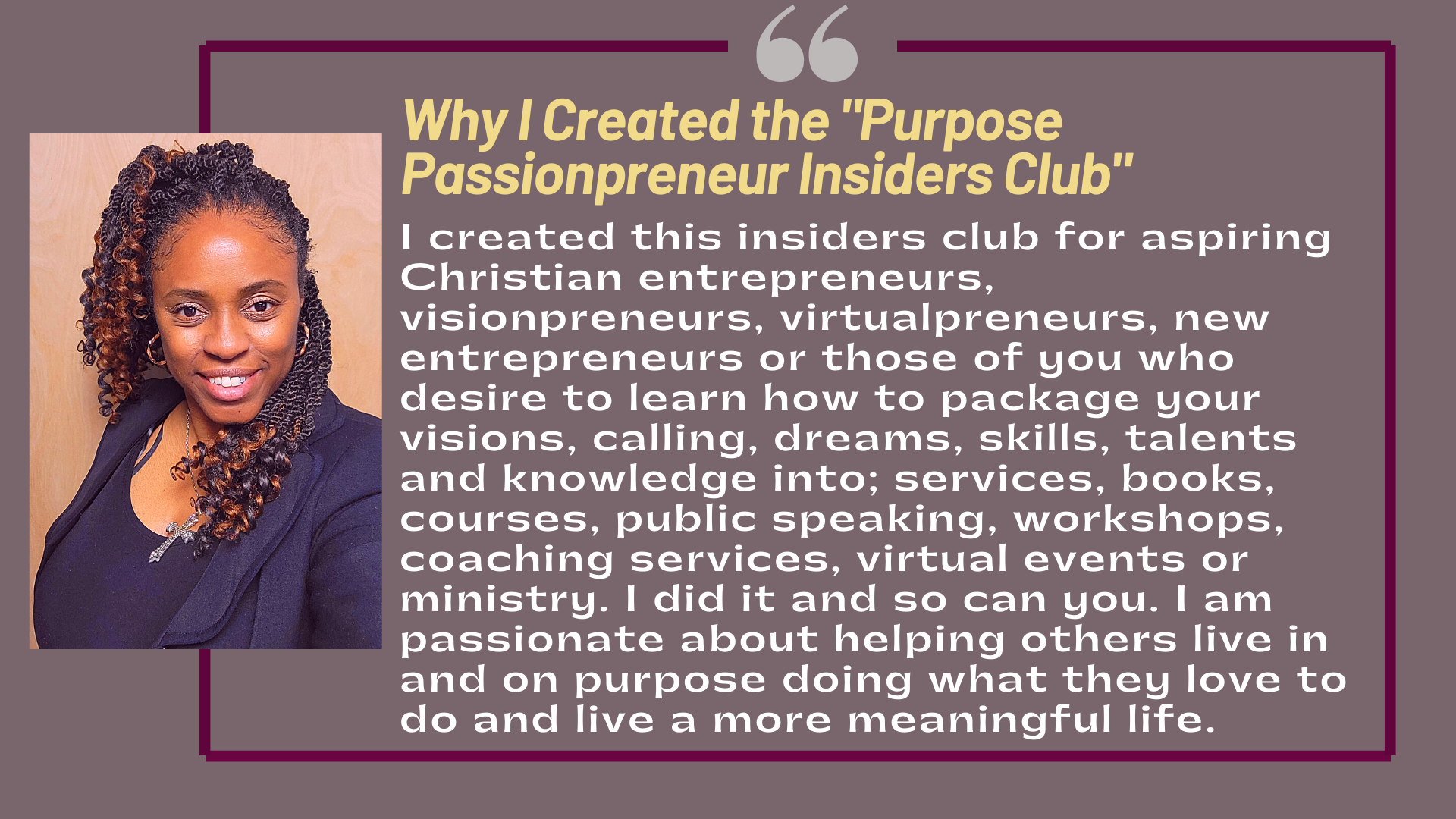 From the Purpose Passionpreneur Vault, You have access to: Monthly Coaching, Courses, Fresh digital products including Workshops, Trainings, eBooks, Worksheets, Tools, Tips, Resources and Masterclasses on how to write and publish eBooks/books, design virtual and live summits and conferences, start a online ministry, learn business startup strategies, personal development, start a speaking business, start a coaching business, start a handcrafting business, DFY/DIYcontent, side-hustle ideas, become a virtual assistant, sponsoring your event, and more.

You will be equipped with information, resources and strategies so you can launch your inner-genius, purpose and passion into this world. You'll also gain access to the exclusive, Purpose Passionpreneurs Insiders Member-only Facebook group to collaborate, exchange ideas and resources, engage in Q & A's and more.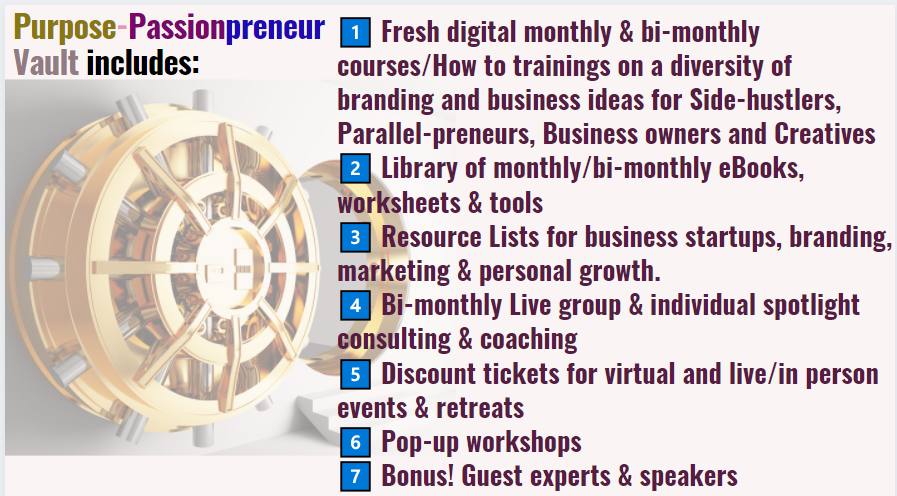 ---
First! You not only have full access to the Purpose-Passion Finder Workshop but also, access to the "Purpose Passion Finder's Vault" beginning with a virtual summit "From the Page to The Stage," the following month, "Ways to Brand & Market Your Passion & Purpose Masterclass" and so on.
---
Purpose Passion Finder Workshop (About)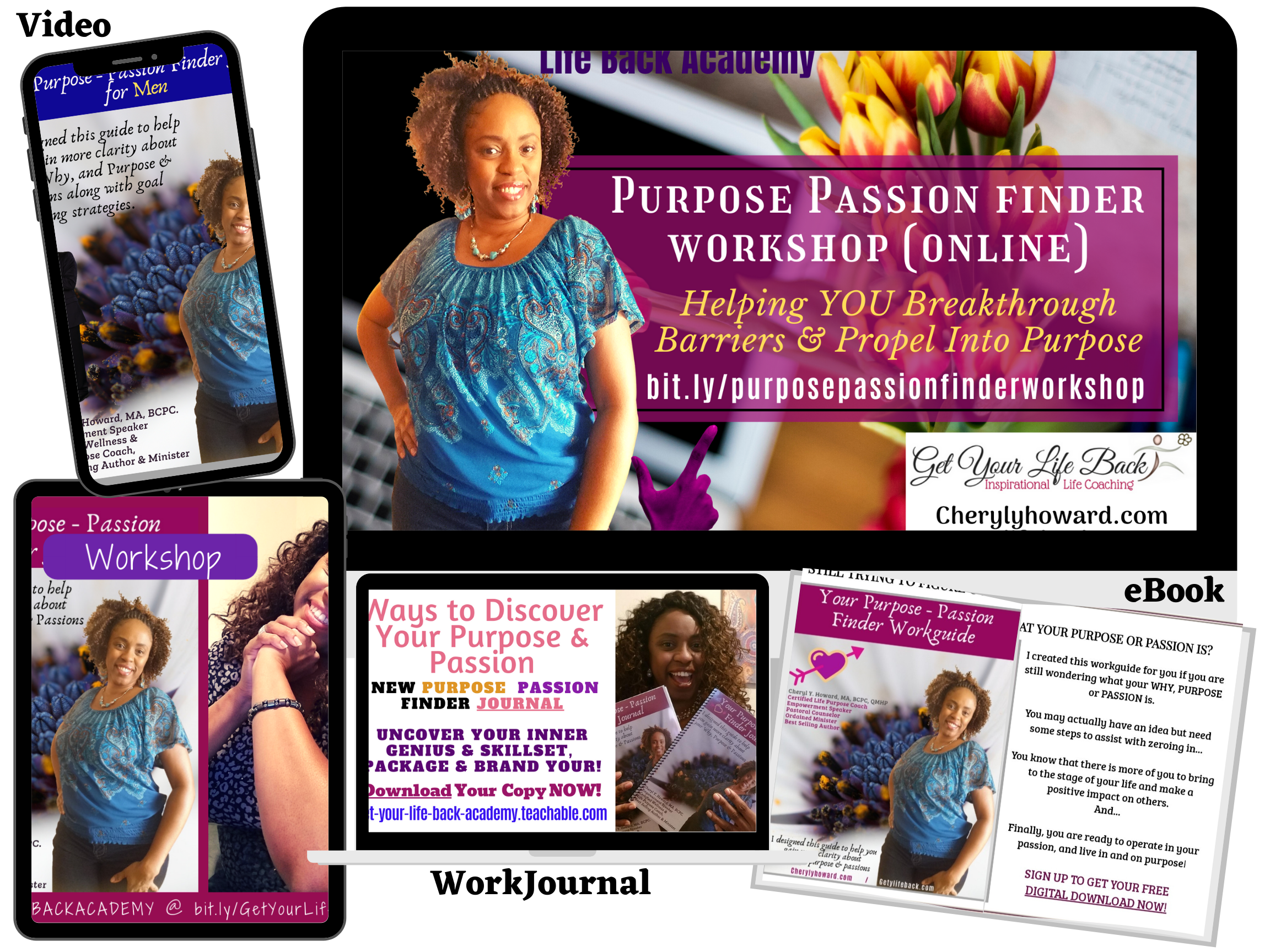 The Purpose Passionpreneur & Purpose Passion Finder Workshop is for You if:
* You are feeling unfulfilled and need confirmation with identifying your strengths, purpose and inner greatness...
* You also believe that there is more to you and uncharted untapped brilliance, originality and passion…
* You want to discover how to package and monetize your genius, life experience, skill-set and expertise…
* You are ready to resign/quit your job, change career and create more flexibility by working for yourself...
* You find yourself working on your own passion-purpose projects while at work and/or performing at bare minimum to get the job done.
* You are struggling with finding ways to create income using your passions, strengths, knowledge and skill set.
---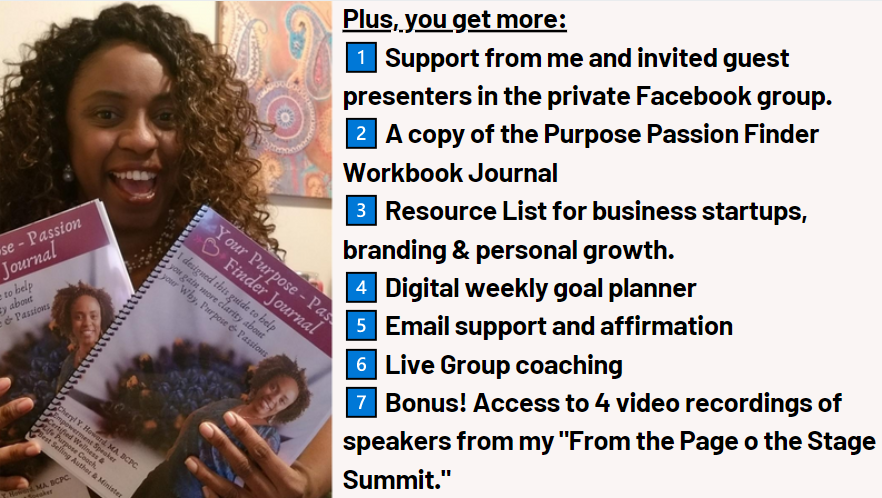 ---
First thing first: LET ME TELL YOU MY "WHY" FOR CREATING THE PURPOSE PASSION FINDER WORKSHOP:
This is YOUR FIRST STEP/PROCESS in the PURPOSE PASSIONPRENEUR INSIDERS CLUB. I created the PURPOSE PASSION FINDER WORKSHOP to help you Discover Your Inner Genius & Skill-set. Many people wonder what their passion(s) are and new purpose, and fail to realize that the answer could be right in front of them. Others, may also see our super ability, potential, brilliance, inner genius, specialization and mastered skills that we somehow ignore or don't realize it's brand-worthy and marketable as a new purpose, side hustle or full time entrepreneurship.
Don't second guess yourself after identifying your skills, knowledge, experience and talent(s). It's important that once you identify your strengths, talents, skills and abilities, you should declare and receive it.
Can't wait for you to take this journey of discovering what you love, the value you possess and pursue it!
"Clarify and Identify WHAT'S IN YOUR HANDS in order to operate in your purpose! You P.A.S.S (Passions, Assets, Strengths & Skill set).
- We will work together but you're going to be stretched a bit because it's your season to live in your purpose and passion.
- It's time for you to stop hiding behind the camera/lens of watching everyone else show up even with fear and trembling.
- Let fear and past trauma work as a catalyst to push you to break barriers and propel into your purpose. *NO MORE BURIED GIFTS! Tell Your Neighbors...
---
BIGGIE VALUE:

After completing your first two bundles, you will have automatic access to your NEXT monthly masterclass,

"All YOU NEED TO BECOME A SELF-PUBLISHED AUTHOR,"

and following,

"WAYS TO BRAND & MARKET YOUR PASSION AND PURPOSE"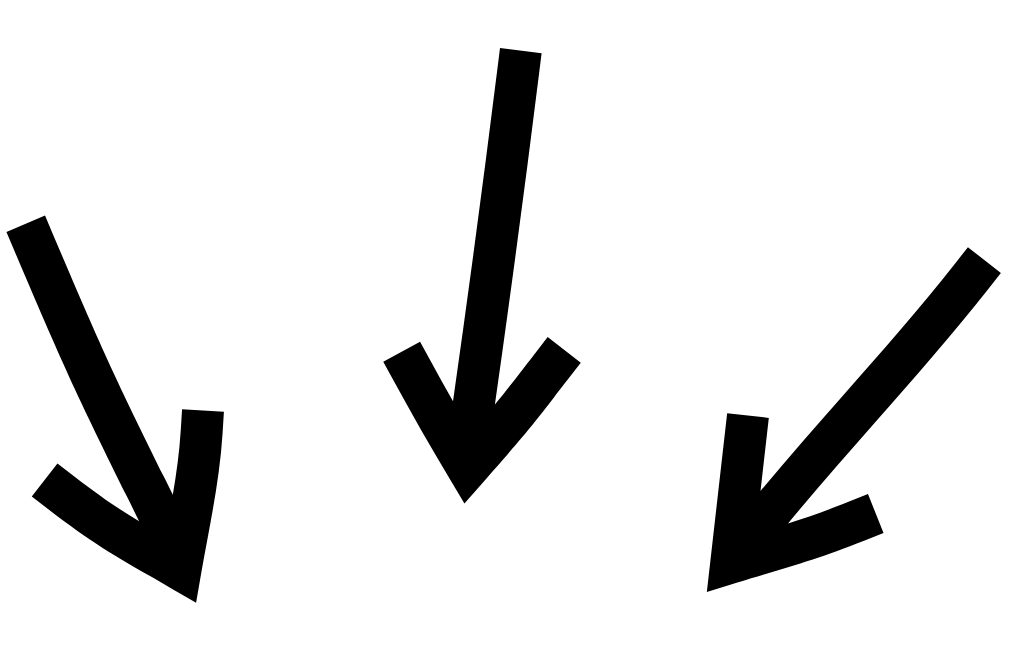 All You Need

to Become A Self-Published Author
Coaching
you on structuring, designing, audience targeting, self-publishing, marketing & multi-monetizing your eBook/book.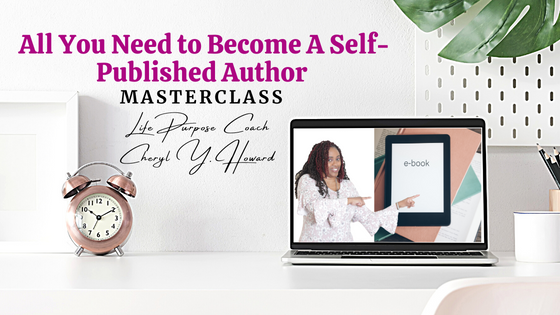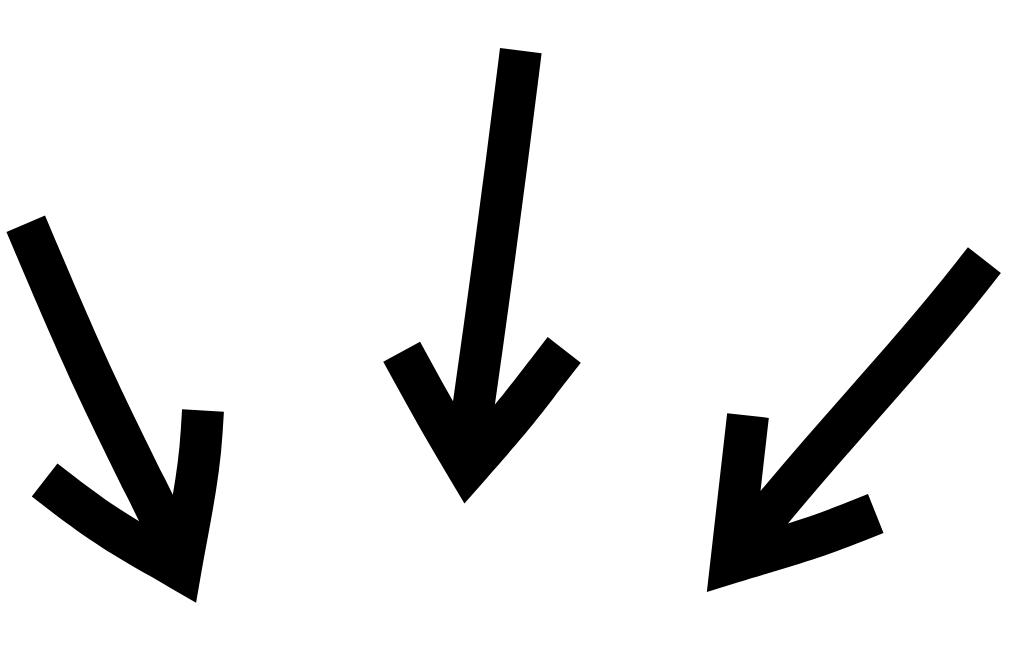 "WAYS TO BRAND & MARKET YOUR PASSION AND PURPOSE"
Designed

for aspiring, current faith-based entrepreneurs and ANYONE who wants to learn how to Develop your personal brand based on their personality, anointing and strengths, then Package & Brand it into programs, services and products to sell. You will learn social media marketing, connecting with your target audience and how to effectively serve the people you are called to.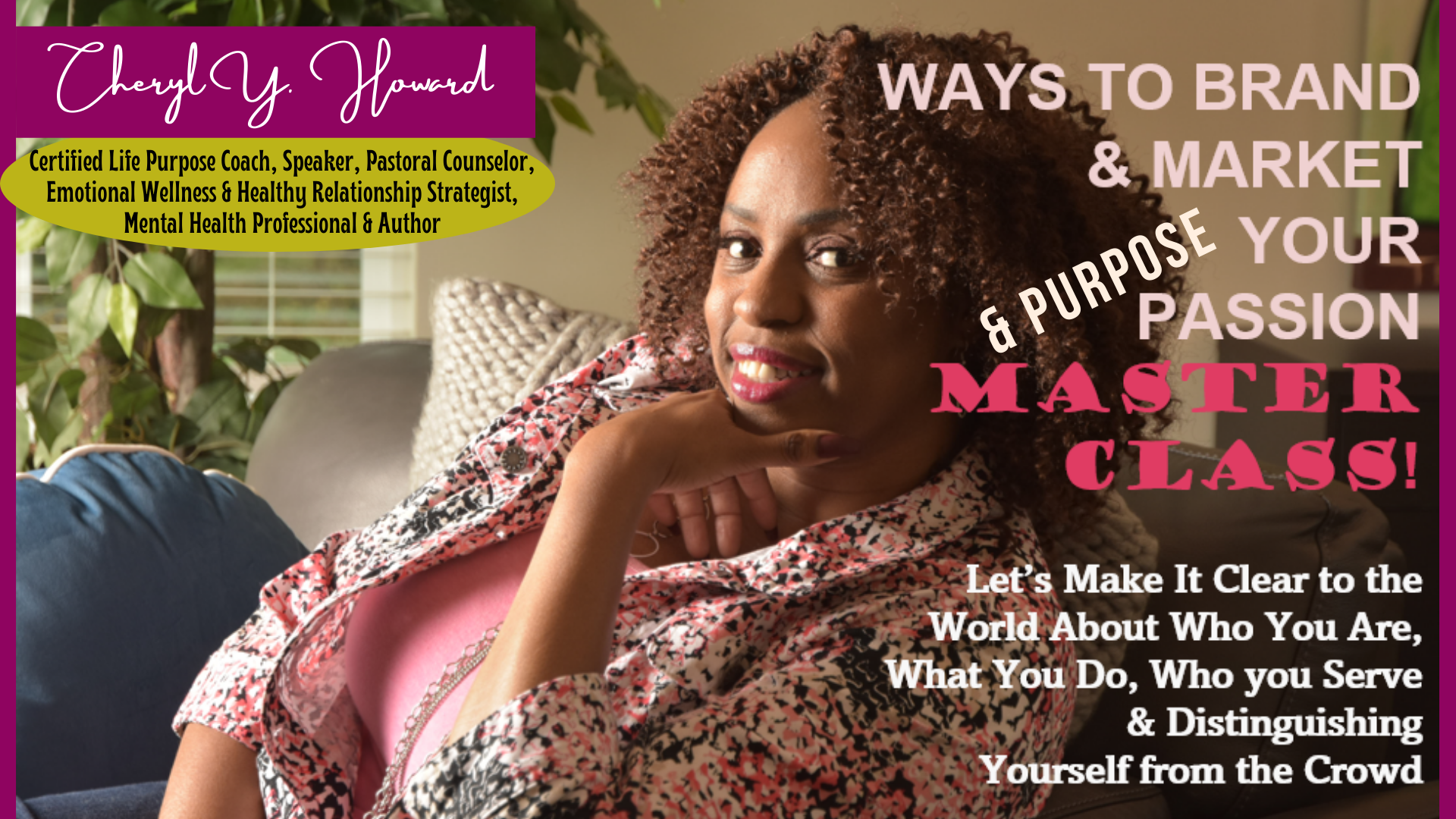 ---
Seize the Moment! This is Your Season to Do What Your Were Called To Do & Create Income Doing What You Love and are Passionate About!
---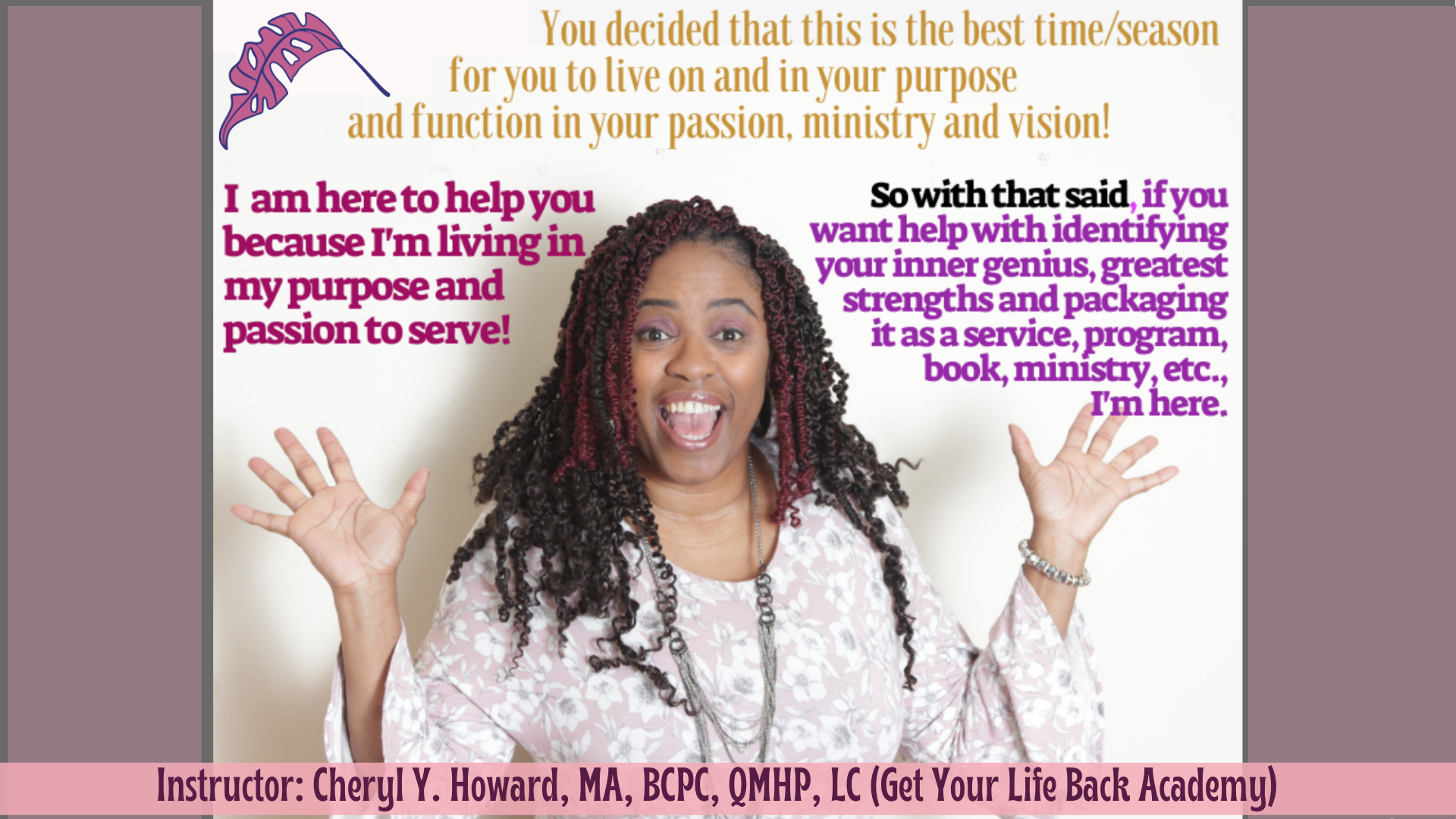 ---
So I will meet you in the club, group, courses, masterclasses and events so you can begin your journey of discovering, recovering, actualizing and operating in your purpose and passion.
I even included your Two First Bundles for you to immediately get started for your first two months until the next bundle service and product drop (monthly & bi-monthly) via email and in the academy.
---
You have immediate access to my 2nd virtual summit FROM THE PAGE TO THE STAGE.
The summit speakers drop key life, mind-setting, actualizing business strategies and branding tips to help you in your endeavors. This summit series is a catalyst and motivational tool that will push and empower you toward your vision and purpose.
---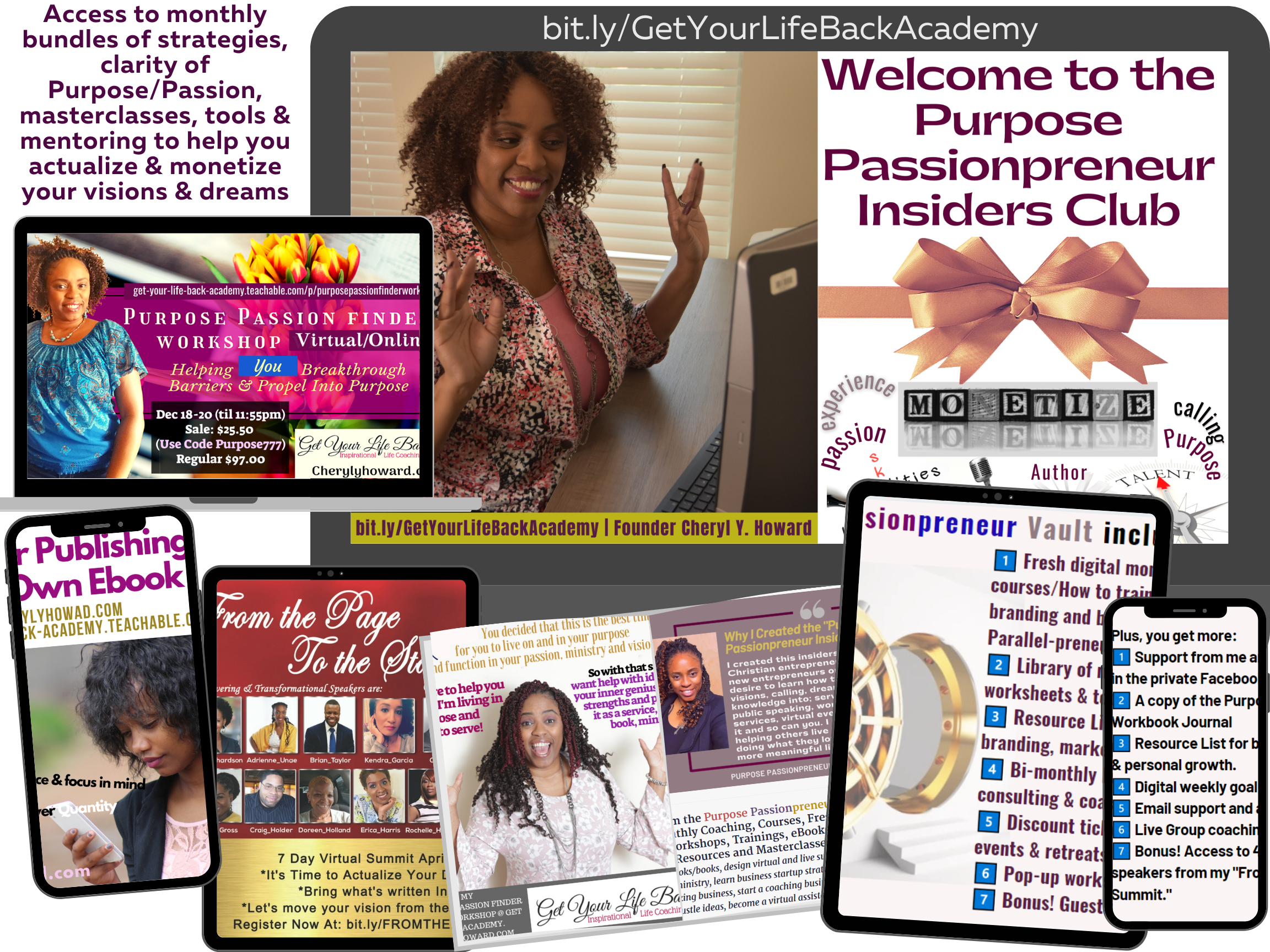 Courses Included with Purchase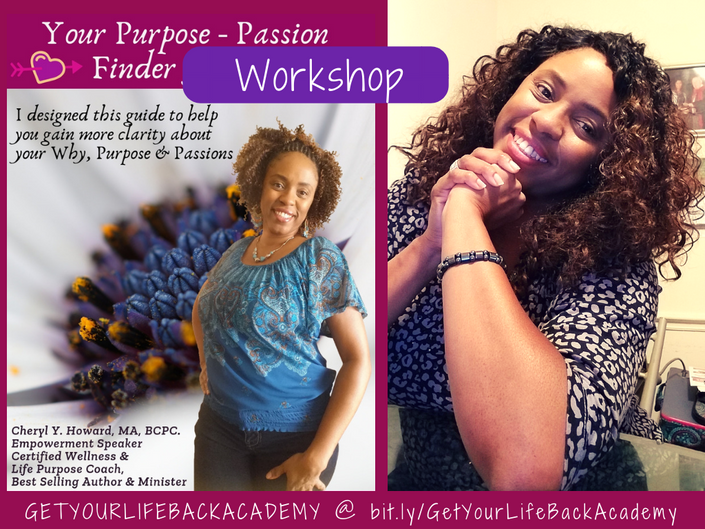 Purpose Passion Finder Online Workshop
Clarify and Identify WHAT'S IN YOUR HANDS (Assets, Strengths & Passions) in order to operate in your purpose!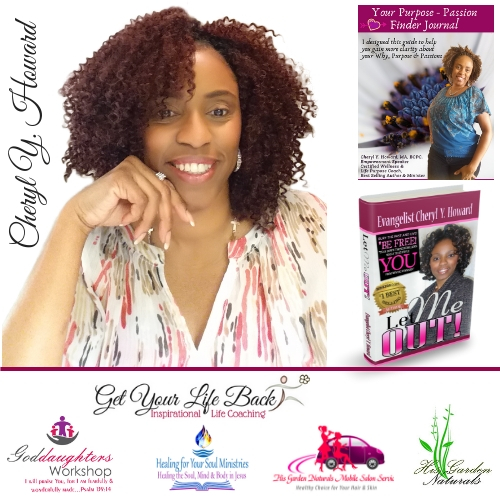 $97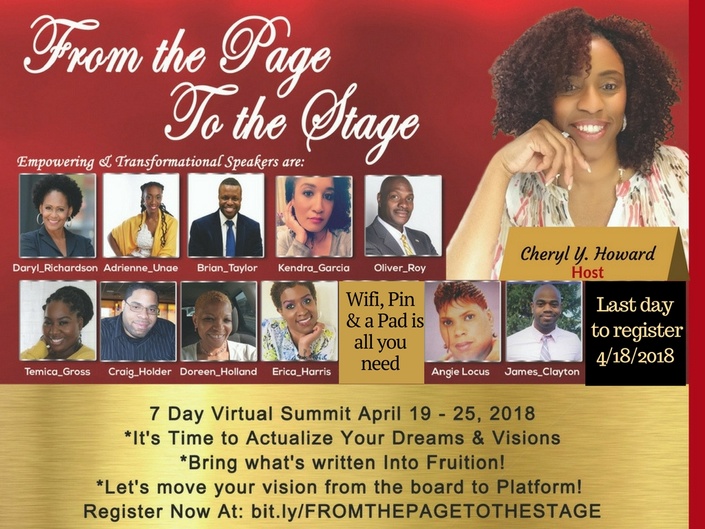 From the Page to the Stage Summit All Access Pass
Actualizing Your Vision; Branding your Genius & Living Your Purpose
$27
Original Price: $124
Your Instructor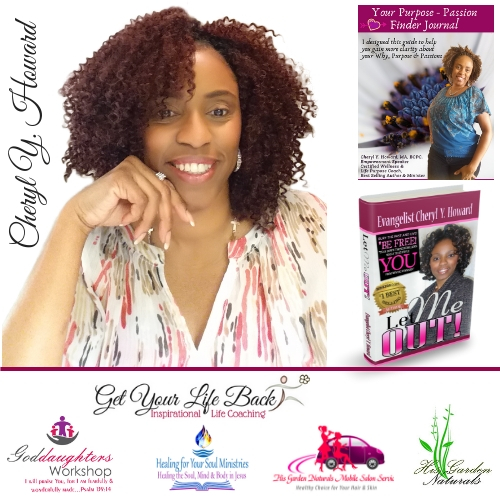 Cheryl Y Howard is passionate about inspiring others to live their visions, dreams and passions. She enjoys teaching others how to package what they know, love, do and say as a business, service, program, book and message and monetize it. Her motto is: 'Motivating others to Breakthrough Barriers and Propel Into Purpose." Cheryl is a Mental Health Professional, Amazon Best Selling Author, Certified Life Purpose Coach, REBT Mindset Coach, Blogger/Vlogger and Podcaster, Transformational & Inspirational Speaker, Minister and Pastoral Counselor. Cheryl provides coaching services and pastoral counseling online and face to face. She also often uses live streaming to provide mind-transformation, emotional wellness and healthy relationship/communication strategies.

Cheryl utilizes social media as another tool to minister to nationally. Cheryl is currently pursuing her Doctor of Ministry degree focused on Pastoral Counseling. She has a MA in Human Services Counseling, training in graduate Clinical Social Work, a MA in Theological Studies, and is a licensed Cosmetologist. She is the founder of the Goddaughters Workshop, His Garden Naturals skin and hair care Product line and mobile salon, Get Your Life Back Coaching and Healing for Your Soul Ministries. Coach Cheryl is also a current Contributing Writer for Thrive Global, and her blogs Get Your Life Back and NurturedNaturallyByCheryl.com.
LINKS TO CONNECT WITH CHERYL:
Website: http://www.cherylyhoward.com/

Blog: https://getylifeback.com/
Podcast: iTunes Apple Podcast / YouTube / Soundcloud Also on: Podbay, iHeart Radio, Google, Amazon Music & Spotify
TO BOOK CHERYL AS SPEAKER: http://www.cherylyhoward.com/Cheryl-Speaks.html
Frequently Asked Questions
When does the course start and finish?
You decide when you start and when you finish. Once you leave the membership, access to club and vault is closed but you can always rejoin again.
How long do I have access to the course?
After enrolling, you have access to this course for as long as you like - across any and all devices you own. The membership program runs annually (1 year) and for as long as you want to stay a member.
So Glad you decided to take this journey and experience with me as your coach, consultant and cheerleader! Yay! Hooray! Let's go You! I want you to remember that if you want additional support by signing up to one of my programs, help you take the next step of learning strategist on how to turn your skill set, passions and purpose into a business, service, community resource, group or movement.